COVID-19 Update 13
Staff of MSDS wish you to Stay Safe, De-Stress and Stay Active!
Linda, Anee, Saba, Ifra, Chelsie and Gaetan (no photo)


MSDS views all of our Dental Clients as Healthcare Providers! We Thank all of you for your Outstanding work and all that you do!!
COVID-19 Update 13
When You've Been Fully Vaccinated

COVID-19 vaccines are effective at protecting you from getting sick. Based on what we know about COVID-19 vaccines, people who have been fully vaccinated can start to do some things that they had stopped doing because of the pandemic.

We're still learning how vaccines will affect the spread of COVID-19. After you've been fully vaccinated against COVID-19, you hould keep taking precautions in public places like wearing a mask, staying 6 feet apart from others, and avoiding crowds and poorly ventilated spaces until we know more.


What's Changed
If you've been fully vaccinated:
You can gather indoors with fully vaccinated people without wearing a mask.
You can gather indoors with unvaccinated people from one other household (for example, visiting with relatives who all live together) without masks, unless any of those people or anyone they live with has an increased risk for severe illness from COVID-19.
If you've been around someone who has COVID-19, you do not need to stay away from others or get tested unless you have symptoms.

However, if you live in a group setting (like a correctional or detention facility or group home) and are around someone who has COVID-19, you should still stay away from others for 14 days and get tested, even if you don't have symptoms.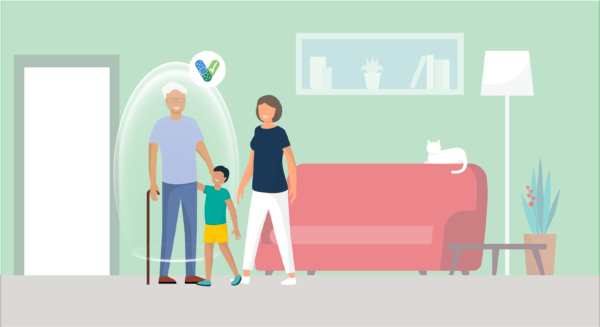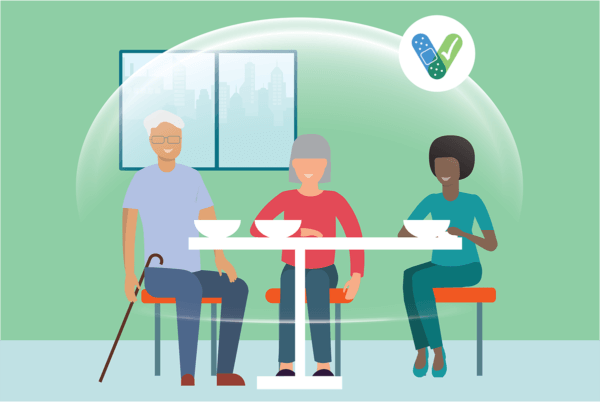 What Hasn't Changed
For now, if you've been fully vaccinated:
You should still take steps to protect yourself and others in many situations, like wearing a mask, staying at least 6 feet apart from others, and avoiding crowds and poorly ventilated spaces. Take these precautions whenever you are:

In public
Gathering with unvaccinated people from more than one other household
Visiting with an unvaccinated person who is at increased risk of severe illness or death from COVID-19 or who lives with a person at increased risk

You should still avoid medium or large-sized gatherings.
You should still delay domestic and international travel. If you do travel, you'll still need to follow CDC requirements and recommendations.
You should still watch out for symptoms of COVID-19, especially if you've been around someone who is sick. If you have symptoms of COVID-19, you should get tested and stay home and away from others.
You will still need to follow guidance at your workplace.



What We Know and What We're Still Learning
We know that COVID-19 vaccines are effective at preventing COVID-19 disease, especially severe illness and death.

We're still learning how effective the vaccines are against variants of the virus that causes COVID-19. Early data show the vaccines may work against some variants but could be less effective against others.

We know that other prevention steps help stop the spread of COVID-19, and that these steps are still important, even as vaccines are being distributed.

We're still learning how well COVID-19 vaccines keep people from spreading the disease.
Early data show that the vaccines may help keep people from spreading COVID-19, but we are learning more as more people get vaccinated.

We're still learning how long COVID-19 vaccines can protect people.
As we know more, CDC will continue to update our recommendations for both vaccinated and unvaccinated people.
Until we know more about those questions, everyone — even people who've had their vaccines — should continue taking basic prevention steps when recommended.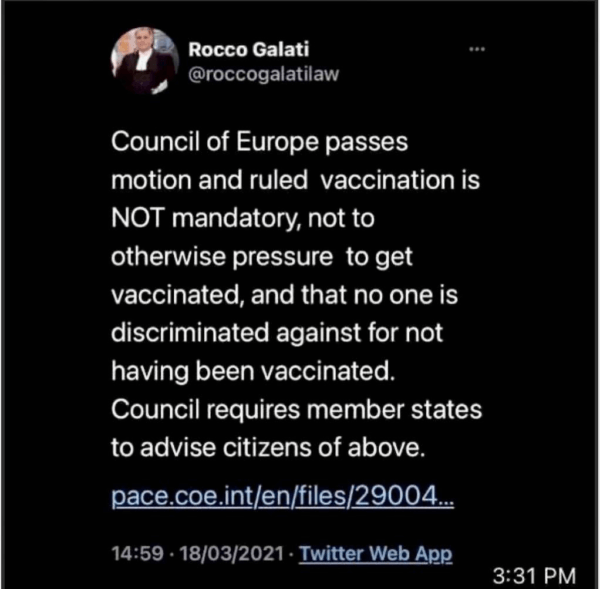 Variants of the Virus that Causes COVID-19
What is a VARIANT?
Viruses constantly change through mutation, and new variants of a virus are expected to occur over time.
What You Need to Know
Protect yourself and others against COVID-19 by wearing a mask, staying at least 6 feet apart, avoiding crowds, washing your hands, and getting vaccinated when it's available to you.


About Variants of the Virus that Causes COVID-19​​
Information about the characteristics of these variants is rapidly emerging. Scientists are working to learn more about how easily they spread, whether they could cause more severe illness, and whether currently authorized vaccines will protect people against them.
What we know
Viruses constantly change through mutation, and new variants of a virus are expected to occur over time. Sometimes new variants emerge and disappear. Other times, new variants emerge and persist. Multiple variants of the virus that causes COVID-19 have been documented in the United States and globally during this pandemic.

The virus that causes COVID-19 is a type of coronavirus, a large family of viruses. Coronaviruses are named for the crown-like spikes on their surfaces. Scientists monitor changes in the virus, including changes to the spikes on the surface of the virus. These studies, including genetic analyses of the virus, are helping scientists understand how changes to the virus might affect how it spreads and what happens to people who are infected with it.

Multiple variants of the virus that causes COVID-19 are circulating globally:
The United Kingdom (UK) identified a variant called B.1.1.7 with a large number of mutations in the fall of 2020.This variant spreads more easily and quickly than other variants. In January 2021, experts in the UK reported that this variant may be associated with an increased risk of death compared to other variant viruses, but more studies are needed to confirm this finding. It has since been detected in many countries around the world. This variant was first detected in the US at the end of December 2020.
In South Africa, another variant called B.1.351 emerged independently of B.1.1.7. Originally detected in early October 2020, B.1.351 shares some mutations with B.1.1.7. Cases caused by this variant have been reported in the US at the end of January 2021.
In Brazil, a variant called P.1 emerged that was first identified in travelers from Brazil, who were tested during routine screening at an airport in Japan, in early January. This variant contains a set of additional mutations that may affect its ability to be recognized by antibodies. This variant was first detected in the US at the end of January 2021.
These variants seem to spread more easily and quickly than other variants, which may lead to more cases of COVID-19. An increase in the number of cases will put more strain on health care resources, lead to more hospitalizations, and potentially more deaths.
So far, studies suggest that antibodies generated through vaccination with currently authorized vaccines recognize these variants. This is being closely investigated and more studies are underway.
Rigorous and increased compliance with public health mitigation strategies, such as vaccination, physical distancing, use of masks, hand hygiene, and isolation and quarantine, is essential to limit the spread of the virus that causes COVID-19 and protect public health.
What we do not know

Scientists are working to learn more about these variants, and more studies are needed to understand:

How widely these new variants have spread
How the disease caused by these new variants differs from the disease caused by other variants that are currently circulating
How these variants may affect existing therapies, vaccines, and tests
What it means

Public health officials are studying these variants quickly to learn more to control their spread. They want to understand whether the variants:
Spread more easily from person-to-person
Cause milder or more severe disease in people
Are detected by currently available viral tests
Respond to medicines currently being used to treat people for COVID-19
Change the effectiveness of COVID-19 vaccines
What CDC is doing

CDC, in collaboration with other public health agencies, is monitoring the situation closely. CDC is working to monitor the spread of identified variants, characterize emerging viral variants, and expand its ability to find new SARS-CoV-2 variants. CDC is collaborating with EPA to confirm that disinfectants on EPA's List N: Disinfectants for Coronavirus (COVID-19 external icon) inactivate these variant viruses. As new information becomes available, CDC will provide updates.
Can People Without Disabilities Use an ADA 'Mask Loophole' in Stores?
For the record, Americans without disabilities are not protected by the federal Americans with Disabilities Act (ADA).
Claim

Americans without disabilities can legally use a federal ADA "loophole" to avoid wearing a mask in stores that require them.
Rating
"Mostly False"
What's True
Businesses that require customers to wear masks during the COVID-19 pandemic are required to accommodate people who may not be able to wear masks due to a medical condition.
What's False
Americans without disabilities are not protected under the federal Americans with Disabilities Act (ADA). Further, the federal Health Insurance Portability and Accountability Act (HIPAA) does not pertain to customers at a grocery store.
Origin
In April 2020, as major stores such as Costco started requiring customers to wear masks in order to prevent the spread of the COVID-19 coronavirus disease, a message started to circulate on social media that appeared to encourage Americans to lie about having medical conditions in order to exploit a "mask loophole."

✨MASK LOOPHOLE✨
Store clerk at the door:
"Excuse me, but do you have a mask?
I can't let you in without one". 😬
Me: "No I'm sorry, I have a medical condition that prohibits the use of anything that could restrict the flow of oxygen to my lungs or brain". 😶
Their answer 90% of the time:
"Oh, okay, sounds good to me, 🤷🏻‍♀️
Go ahead, have a great day"
Their answer 10% of the time:
"What kind of medical condition is THAT"?
Gentle Answer: "According to HIPAA regulations, you're not allowed to ask me that. Please don't discriminate against those who can not wear masks, we need our essentials too.
I'll be in and out"As long as you're polite and non aggressive, this has not failed me yet. # staaayfreeeee 🙌🏼
These "mask loophole" posts sometimes opened with the declaration "Don't want to wear a mask? Try this!" and ended with "What have you got to lose?" They were frequently accompanied by one of two images supposedly showing flyers issued from the U.S. Department of Justice that could be presented to stores to explain that these people were "exempt" from these rules:
However, these flyers were not issued, endorsed, or distributed by the Department of Justice, and the advice relayed in the "mask loophole" flyer is both legally and morally questionable.
The social media post above essentially argues that able-bodied people can lie about having a medical condition in order to avoid wearing a mask in a store that requires customers to wear them. If the store presses them on the issue, they can claim that the store would be violating the federal American Disabilities Act (ADA) and the Health Insurance Portability and Accountability Act (HIPAA) by asking them about their medical conditions.
This social media post doesn't relay a "mask loophole" so much as it encourages people to exploit a law designed to provide protections to disabled people.
We reached out to several regional ADA centers for more information about the flyers. While their answers varied in length and content, they all hit on one major theme: Americans without disabilities are not protected by the Americans with Disabilities Act:
New England ADA Center: The ADA protects the privacy of people who have disabilities. People who lie about a medical condition and don't have one, do not have rights under the ADA.
We are not in favor of people lying in order to get the modifications of policies and procedures that are the legitimate right of people with disabilities for whom wearing a face mask would be detrimental to their medical conditions.
Great Lakes ADA Center: "Individuals without disabilities do not have protected rights in terms of the conditions set forth by a business, etc. in order to come into their establishment but a person with a disability does have rights (ADA plus many state civil rights laws) and thus, business entities must understand these issues and look at what they can do, how they can do it and creative ways of addressing any concerns that they have."
Northeast ADA Center: The ADA protects individuals with disabilities. As with many things in our society, there are people that attempt to take advantage of our system. There are typically remedies for this in criminal and civil law.A spokesperson for the Justice Department told us the department did not issue the flyers. All of the ADA centers we contacted also told us that they were unfamiliar with the flyers.
The scenario depicted in this social media post (a citizen refusing to wear a mask at a grocery store) is also unrelated to HIPAA. (It's worth noting that one of these viral flyers misspelled this acronym "HIPPA". The Health Insurance Portability and Accountability Act was passed in 1996 with the aim of protecting private medical records. HIPAA restricts hospitals and health care providers from sharing protected information and gives patients better access to their own records. This law has little to do with customers at a grocery store.
Kathy Gips, the director of training at the New England ADA Center, told us:
HIPAA only applies to three types of covered entities: health plans, health care clearinghouses, and health care providers. It restricts their ability to share protected health information. It also gives patients access to their own medical records. It has nothing to do with customers or stores or employment or anything else.

HIPAA does not apply to individuals (in this case, store clerks) asking a customer to wear a mask. It applies to the release of medical records from health personnel.
The U.S. Department of Health and Human Services (HHS) reiterates this point on its website, explaining that HIPAA regulations apply only to "covered entities," including health plans, health care providers, and health care clearinghouses. HHS writes:
The Privacy Rule, as well as all the Administrative Simplification rules, apply to health plans, health care clearinghouses, and to any health care provider who transmits health information in electronic form in connection with transactions for which the Secretary of HHS has adopted standards under HIPAA (the "covered entities").
The HHS website also notes that HIPAA does not apply to other entities, such as law enforcement, employers, and schools.
While this social media post appeared to be widely circulated by able-bodied people seeking to exploit a "mask loophole," the ADA does truly protect individuals who cannot wear a mask due to medical conditions from being discriminated against. This means that stores that implement mask requirements have to find ways to accommodate individuals who cannot wear a mask.
Gips explained:
Title III of the ADA requires businesses to make reasonable modifications of policies, practices and procedures … The store should work with the person to maintain 6 ft social distancing, and if that's not possible to consider accommodations such as shopping for the person and providing curbside service or home delivery.
So what about Costco?
These flyers were widely circulated in the wake of Costco's announcement that it would be temporarily requiring customers to wear masks while shopping during the COVID-19 pandemic. While these social media posts claimed that showing one of these flyers to a Costco employee would force the store to adhere to the ADA's anti-discrimination guidelines, Costco was already operating with this in mind. In fact, when Costco announced the mask requirement it noted that this new policy did "not apply to children under the age of 2 or to individuals who are unable to wear a face covering due to a medical condition."
So….Can People Without Disabilities Use an ADA 'Mask Loophole' in Dental Healthcare Practices?
You are your own boss.
You own your own company.
You have rights.

You are allowed to ask the Patient, parent or anyone else walking into your office stating "I do not have to wear a mask for medical reasons" to bring a letter from their Healthcare Provider ( without stating what their medical condition is) that the patient, parent or guardian, in fact, cannot wear a mask or face covering of any kind. If they do have a letter – and it should be within 12 months, then you will accommodate them.

Accommodations may be in the form of asking them to stay in their vehicle if you are a parent or guardian. If you are a patient, the Healthcare practice may need to make sure everyone is in their operatory and clerical staff is 6 feet away.
Special Thanks to the Tidewater Dental

Association!
ADA, ADHA FIND LOW RATES OF COVID-19
AMONG HYGIENISTS (ADA MORNING HUDDLE)

Research shows that dental hygienists are at low risk for COVID-19, according to HealthDay News. The Occupa tional Safety and Health Administration has said hygien ists are at high risk, but a study conducted by the ADA and the American Dental Hygienists' Association found that just 3.1% of hygienists have developed COVID-19, and their rates of infection have been comparable to rates among dentists and lower than infection rates among other health care professionals, according to research reported in the Journal of Dental Hygiene and reported previously in ADA News. The ADA and ADHA discussed these and other findings during a joint webinar that is available for on-demand viewing.


https://consumer.healthday.com/b-2-25-%20very-low-rate-of-coronavirus-infection-among-dental-hy%20gienists-study-finds-2650698570.html/


A JOINT COMMISSION ANNOUNCES SUCCESSFUL IMPLEMENTATION OF New CLINICAL DENTAL LICENSURE EXAMINATION DLOSCE USES 3D MODELS TO AsSESS CANDIDATES' JUDGMENT, SKILLS February 25, 2021 ADA News Current Issue 2/25 By Kimber Solana The Joint Commission on National Dental Examinations announced Feb. 24 the successful implementation of its new Dental Licensure Objective Structured Clinical Exami nation, or DLOSCE, which utilizes 3D models to assess dental licensure candidates' clinical judgment and skills without the need to involve patients.

The new DLOSCE represents a significant leap forward in new technology in the standardized assessment of aspiring dentist, according to the Joint Commission.

"The DLOSCE provides a comprehensive evaluation the clinical judgment that is necessary to safely practice dentistry, advancing assessment technology and helping to address ethical concerns with current clinical licensure ex aminations," said Joint Commission chair Kanthasamy Ragunanthan, D.D.S. "We are confident that the DLOSCE will prove to be an invaluable tool to support the work of state dental boards in their mission to protect the public health."


NIH RESEARCH MATTERS FEBRUARY 23, 2021

HUMIDITY FROM MASKS MAY LESSEN SEVERITY OF COVID-19
Face masks substantially increase the humidity of the air that the mask-wearer breathes in, which the researchers propose could help combat SARS-CoV-2 infection. The findings may help explain why wearing masks has been linked to lower disease severity in people with COVID-19. Masks greatly increase the humidity of inhaled air, particularly at lower temperatures, which may help to protect wearers from serious respiratory infections.

Masks serve as a barrier to help protect the people wearing them from getting or spreading SARS-CoV-2, the virus that causes COVID-19. The virus spreads mainly from person to person through respiratory droplets. These droplets travel into the air when coughing, sneez ing, or talking. Masks are a simple barrier to help block respiratory droplets. Studies show that masks reduce the release of droplets when worn over the nose and mouth.

Research suggests that wearing a face mask may also lessen the severity of COVID-19 if an individual is infected. It's possible that humidity created within the mask may play a role, as humidity is an essential factor in the process that clears inhaled particles from the lungs.

Drs. Joseph Courtney and Adriaan Bax of NIH's National Institute of Diabetes and Digestive and Kidney Diseases (NIDDK) carried out a study to compare how different face masks affected the humidity of inhaled air. Results were pub lished on February 12, 2021, in the Biophysical Journal.

The scientists tested four common types of masks: an N95 mask, a three ply disposable surgical mask, a two-ply cotton-polyester mask, and a heavy cotton mask. A volunteer wore each mask for at least 10 minutes before any measurements were taken. The researchers then measured the level of humidity when breathing into a sealed steel box. The volunteer's face was fitted tightly against the box using high-density foam rubber. Humidity measurements were taken at three different air temperatures, ranging from about 46 to 98 degrees Fahrenheit.

Masks absorb much of the water vapor that is exhaled and then release some of it during inhalation. By measuring the humidity changes in the box under the different conditions, the researchers were able to calculate how each mask af fected the humidity of inhaled air.

All four masks increased the humidity of inhaled air substantially, but to different degrees. At all temperatures, the thick cotton mask led to a very large increase in hu midity. At room temperature, the surgical mask resulted in the lowest but still sizable humidity increase, while both

the N95 mask and the cotton-polyester mask increased humidity to an equal extent. The humidifying effects of all masks greatly increased at lower temperatures.

High levels of humidity may help limit the spread of a virus to the lungs. Humidity supports a defense mechanism that removes mucus from the lungs—along with potentially harmful particles, such as viruses, within the mucus. Low levels of humidity can also hamper the immune system's ability to fight against viruses. This may help explain why people are more likely to get respiratory infections in cold weather.

"We found that face masks strongly increase the humidity in inhaled air and propose that the resulting hydration of the respiratory tract could be responsible for the documented finding that links lower COVID-19 disease severity to wearing a mask," says Bax. "High levels of humidity have been shown to mitigate severity of the flu, and it may be applicable to sever ity of COVID-19 through a similar mechanism."

Earlier studies from Bax and other colleagues showed that any cloth mask can help block the thousands of saliva droplets that are released when speaking. This study suggests another way that masks may help in the battle against COVID-19.


ADA RELEASES TOOLKIT FOR INCREASING VACCINE CONFIDENCE ADA News

The ADA has released a toolkit to help dentists increase patients' confidence in COVID-19 vaccines, according to ADA News. The downloadable resource includes answers to com monly asked questions, advice for social media interactions and tip sheets for dispelling myths about the vaccines and sharing science-based recommendations for pregnant women or those planning to start a family. An Associated Press poll in February found a third of American adults harbored doubts about COVID-19 vaccines.



The Newsletter of the Tidewater Dental Association President's Message


I would like to commend two TDA members who are making their voices heard, and are changing dentistry in Virginia. I'd like to congratulate Dr. Dagoberto "Dag" Zapatero (Starfish Dental) on his appointment to the Board of Dentistry by Governor Northam. He has been a very active and pragmatic voice when it comes to legislative initiatives, and preserving the autonomy of Dentistry as a profession. Governor Northam signed emergency legislation to allow dentists to administer COVID-19 vac cine in Virginia. Dr. Nicholas "Dr. Nick" Ilchyshyn, has been working diligently to get approval for dentists to ad minister the intramuscular COVID-19 vaccine. The opportunity for dentists to provide COVID vaccine to the community will highlight the dedication of the dental profession to health in Virginia. Dr. Nick has also been working and volunteering with the Medical Reserve Corp. if you are interested in helping with vaccinations and the Medical Reserve Corps, contact director Ellen Burgess at

[email protected]

.
Heated Vaccine Debate – Kennedy Jr. vs Dershowitz
Youtube • 1,656,607 views • Premiered Jul 23, 2020
Heated vaccine debate between Robert Kennedy Jr. and Alan Dershowitz moderated by Patrick Bet-David.
Professor Alan M. Dershowitz is Brooklyn native who has been called "the nation's most peripatetic civil liberties lawyer" and one of its "most distinguished defenders of individual rights," "the best-known criminal lawyer in the world," "the top lawyer of last resort," "America's most public Jewish defender" and "Israel's single most visible defender — the Jewish state's lead attorney in the court of public opinion." He is the Felix Frankfurter Professor of Law at Harvard Law School. Dershowitz, a graduate of Brooklyn College and Yale Law School, joined the Harvard Law School faculty at age 25 after clerking for Judge David Bazelon and Justice Arthur Goldberg.
We noted the unusual patent prosecution efforts of the CDC, when on April 25, 2003, they sought to patent the SARS coronavirus isolated from humans that had reportedly transferred to humans during the 2002-2003 SARS outbreak in Asia. 35 U.S.C. §101 prohibits patenting nature. This legality did not deter CDC in their efforts. Their application, updated in 2007, ultimately issued as U.S. Patent 7,220,852 and constrained anyone not licensed by their patent from manipulating SARS CoV, developing tests or kits to measure SARS coronavirus in humans or working with their patented virus for therapeutic use. Work associated with this virus by their select collaborators included considerable amounts of chimeric engineering, gain-of-function studies, viral characterization, detection, treatment (both vaccine and therapeutic intervention), and weaponization inquiries.
In short, with Baric's U.S. Patent 6,593,111 (Claims 1 and 5) and CDC's '852 patent (Claim 1), no research in the United States could be conducted without permission or infringement.
https://msdssafety.us6.list-manage.com/track/click?u=6cd9417cf8&id=20a7450310&e=6812b09ddb
https://www.irishcentral.com/news/robert-f-kennedy-jr-dr-fauci-covid19-vaccine?fbclid=IwAR0nYO8hXKKFeuPh0Kc_jKBJnpWVQZyTKIOE9aAdH3kdrAZSMvae77ke0xo
https://www.washingtonpost.com/health/2020/09/28/cdc-under-attack/?fbclid=IwAR3Rm_3r1A6Y-NhUhCwuhUHrsD0SY9mQ8bjZLbTMC2cd__CmJ5ywQ_RsLx8
Organizing your computer for MSDS:Make a folder on your desktop named MSDS.Double click the folder. Create Folders for each category. OSHA-BBP, OSHA Safety Classes, HIPAA, Medical Emergency, BLS-CPR, etc.In each folder, for example, HIPAA: You'll have the Business Associate Agreement, Patient Consent Form, Office's Privacy Practice, etc.
OSHA-BBP Exposure Control Plan.Mandatory by Federal OSHA-BBPRequired to be PersonalizedReviewed Annually by all office staff involved in OPIM. (Other Potentially Infectious Materials)This manual is also called: The OSHA manual, The Exposure Control Plan or The Bloodborne Pathogen manual.

If you want MSDS to help you with your Personalized manual. The cost for non clients is $450.00. Cost for Clients is $250.00 this gives you not only a personalized manual in binder form, but also in PDF which is the format the Inspectors will want you to have. Best to know that we will not have you answer incorrectly vs. you writing your own manual and the manual is incorrect. MSDS can boast that our manual has never been given anything less than an A+ from an OSHA inspector.