Fifth Coronavirus Update

Staff of MSDS wish you to Stay Safe, De-Stress and Stay Active! 
Linda, Anee, Saba, Ifra, Chelsie and Patrick (no photo)
      
 
MSDS views all of our Dental Clients as Healthcare Providers!  We Thank all of you for your Outstanding work and all that you do!!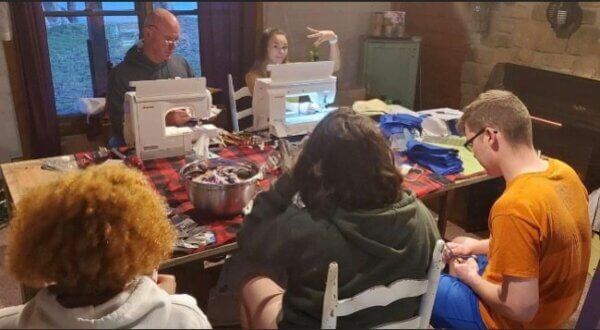 Fifth Coronavirus Update
To Train or Not to Train. That is the Question

With COVID-19, State and Federal Regs have pushed the new date for you to see patients without concern to – June 10th 2020.

To protect your staff, we are moving all Linda's classes to Teleconference training, unless you have the space at your office for social distancing, masks and under 11 total.  

The benefit of the Teleconference training is you and your staff can call in from virtually anywhere. 

The company MSDS utilizes is called TurboBridge.  All you need is a cell or a landline.
TurboBridge records the phone numbers and how long the staff members were on the Teleconference. This is excellent for your records if you need them, and also for CE's.
This is also an ideal way to have the training if the staff has children, as they can mute their phone so they can hear, but no one hears their background.  Everyone loves that they can still hear the lecture vs. having to sit in front of the computer and risk internet interruption or glued to their seat vs moving around for those that get a little antsy. 

How TurboBridge Works:   We will send you a conference phone number to call.  Once you have called, the voice prompt will ask you to enter in your Conference ID, followed by the #.  The Conference ID is typically your office phone number.  Linda will also call using the same ID.  If any staff gets disconnected (child hangs up the phone) – not a problem, they just call back in.
Since Linda teaches all states except California, the Teleconference class has been an excellent way for MSDS to complete the classes for over 20 years for our clients, as they would incur a travel fee if she needed to do onsite.
After the class we will email you all of your paperwork, including your Office Certificate, Staff Completion Cards and CE's.  You only have to scan back or take a cell pic of the roster for all the staff to initial.   
We would recommend keeping your appointment considering by the time June 10this here, your offices will be slammed with patients for months and Linda is booked up a year also.

Why Schedule Now vs. Cancelling the Teleconference of On-Site Class:  Lectures that can be completed on-site must have less then 11 staff and enough room to have 6 feet from each other, or masks, gloves and eye protection.   Best to have a bandana scarf on your head also. MSDS' has all of the PPE to train, so On-site is up the individual offices with less than 11 staff. This required PPE is the new update from WHO: World Health Organization.  Dental Healthcare staff is stating they find it interesting that WHO did not mention this for the average person on the streets until the Hospitals had enough masks and more on order??  To prevent hording?  Wonder how the cities hit the hardest will feel about this "New" thought?  New Change to Hospital staff:  All Hospital staff will now wear a mask at all times no matter what area they are working in.

We understand that our Healthcare Providers have been hit hard.  If you need more time to get the business back in order, we can take a credit card and split the charge over the course of 3 months or if you need more time, please let us know. 
We have said in the past as long as the note is in your OSHA Exp Manual, that you would be okay.  However, with the new Field Op Manual that came in September, 2019.  The inspectors are questioning and documenting if the office has not completed the OSHA-BBP in the 365 days allotted.  This will be a citation if we can't find an appointment time when the ban is lifted.  The office has to state why the need to reschedule. That part will pass without an issue due to COVID-19 and the mass delays. 

I am worried about our Healthcare Providers getting the office back on track.  I am booked up for a year as are the rest of my Healthcare Providers.  If we do not complete your classes ASAP, how will you find time when the office now has to schedule 4 months of back patients?  We have offices doing classes early as they know they will not be available after June 10th.  MSDS cannot be held responsible for the office not in compliance.  I would still stand beside you on this issue, but I can't say after June 10th that it will work.

Finally, we have to be acceptable to the fact, we do not know when any of us will be hit with this virus ourselves.  It maybe the staff or the doctor or myself.  If you wait till June 10th and then need to cancel till August, and then you or your staff are hit with the virus, what then? 

What is the Board of Dentistry Doing During the COVID-19?:  Its business as usual!  I am still helping dentists with chart and financial requests.  The board is not stopping the requests – to dentists from a patient complaint.  Even though you would think they understand patients are potentially causing the complaint to get money back on treatment completed.  People are scared, and anxiety is heightened.  Counselors are booked solid with the TeleHealth system.  So if a patient is scared they will not have any money to make it through till June 10th, they will be looking at what they can cut or gain back.  It is just the way it is. And it's happening now.  But know I am there for you.  You just need to text me (Linda's private cell number to text) at 757-718-1515.  Any questions about regs, please still email MSDS at http://

[email protected]

 



What about BLS-CPR:

  Linda cannot go to the office anymore for BLS-CPR as her training center is forbidding the classes right now.  However, give Patrick a call or text Linda and we can go over what else will work. 

Is everyone at your office receiving our Newsletters that wants one?  If not, please reply with the emails you want us to send the latest Newsletter with all the Financial Help and Updated Regs.  We will keep you on the list until you decide you no longer want them. 
They newsletters are packed full of all of the Federal and State Guidelines to help offices stay afloat during these stressful times. 

Paycheck Protection Program
An SBA loan that helps businesses keep their workforce employed during the Coronavirus (COVID-19) crisis.
Loan Information
The Paycheck Protection Program is a loan designed to provide a direct incentive for small businesses to keep their workers on the payroll.
SBA will forgive loans if all employees are kept on the payroll for eight weeks and the money is used for payroll, rent, mortgage interest, or utilities.
You can apply through any existing SBA 7(a) lender or through any federally insured depository institution, federally insured credit union, and Farm Credit System institution that is participating. Other regulated lenders will be available to make these loans once they are approved and enrolled in the program. You should consult with your local lender as to whether it is participating in the program.
Lenders may begin processing loan applications as soon as April 3, 2020. The Paycheck Protection Program will be available through June 30, 2020.
Who Can Apply
The following entities affected by Coronavirus (COVID-19) may be eligible:
Any small business concern that meets SBA's size standards (either the industry based sized standard or the alternative size standard)
Any business, 501(c)(3) non-profit organization, 501(c)(19) veterans organization, or Tribal business concern (sec. 31(b)(2)(C) of the Small Business Act) with the greater of:

500 employees, or
That meets the SBA industry size standard if more than 500

Any business with a NAICS Code that begins with 72 (Accommodations and Food Services) that has more than one physical location and employs less than 500 per location
Sole proprietors, independent contractors, and self-employed persons
Loan Details and Forgiveness
The loan will be fully forgiven if the funds are used for payroll costs, interest on mortgages, rent, and utilities (due to likely high subscription, at least 75% of the forgiven amount must have been used for payroll). Loan payments will also be deferred for six months. No collateral or personal guarantees are required. Neither the government nor lenders will charge small businesses any fees.
Forgiveness is based on the employer maintaining or quickly rehiring employees and maintaining salary levels. Forgiveness will be reduced if full-time headcount declines, or if salaries and wages decrease.
This loan has a maturity of 2 years and an interest rate of 1%.
If you wish to begin preparing your application, you can download a copy of the PPE borrower application form to see the information that will be requested from you when you apply with a lender.
Other Assistance
In response to the Coronavirus (COVID-19) pandemic, small business owners in all U.S. states, Washington D.C., and territories are currently eligible to apply for disaster assistance.
Enhanced Debt Relief is also available in SBA's other business loan programs to help small businesses overcome the challenges created by this health crisis.
SBA provides local assistance via 68 district offices and a nationwide network of resource partners.
Lender Forms and Guidance
The Interim Final Rule announcing the Paycheck Protection Program information is being posted in advance of publication in the Federal Register. The official version will appear in the Federal Register.
Lenders who need assistance accessing SBA's E-Tran system may call our Lender Customer Service Line at 1-833-572-0502.


As Insurance Executives Waive Copays for Coronavirus, This Reminder: Medicare for All Would Eliminate All Copays Forever.
>>  To My Dental Healthcare Providers.  Please forward me any news from any Dental Insurance that is also waiving copays.  Even if it's for Emergency Visits.  My team and I have researched, and we can not find any Dental Insurance that is waiving co-pays! <<

After the Trump administration on Tuesday touted that executives from some of the nation's major private insurance companies are now waiving copays for their customers who need testing for the coronavirus, advocates of Medicare for All took the opportunity to note that under a universal, single-payer system like Medicare for All copays for any medically necessary service or care would be a thing of the past entirely.

During a White House meeting between President Donald Trump, Vice President Mike Pence, members of the Coronavirus Task Force, and executives from various industries, Pence treated the announcement as a major achievement.

"I'm pleased to report that as you requested, Mr. President, that all the insurance companies here, either today, or before today, have agreed to waive all copays on coronavirus testing, and extend coverage for coronavirus treatment in all of their benefit plans," Pence said.
"Multiple studies of patients with high blood pressure, heart attacks, diabetes, breast cancer, multiple sclerosis, and rheumatoid arthritis show that cost-sharing deters the use of needed medications and care and, in many instances, causes demonstrable clinical harm," he added. "Such large scale inadequacies in insurance coverage will make America's response to a viral respiratory epidemic all that more difficult."




Fact check: Could your December cough actually have been coronavirus? Experts say more research is needed






The claim: People who suffered from "a round of illness in November and December" likely had the coronavirus 




A handful of widely circulated Facebook posts have asserted that people in the United States likely contracted the coronavirus as early as last fall.

"Who got sick in November or December and it lasted 10 to 14 days, with the worst cough that wouldn't go away?" the posts say. "If you can answer, yes, then you probably had the coronavirus. There were no tests and the flu test would come back negative anyway. They called it a severe upper respiratory infection." 

"Our area has had a very virulent 'flu' season with many of my friends testing negative for flu," she said in a Facebook message. 

Coronavirus likely originated in November, was first in U.S. in January

Researchers have tied the origin of the virus to a live animal market in Wuhan, China. The World Health Organization first received a report of the outbreak on Dec. 31, but the virus originated in China more than a month earlier than that. A study published in early March by researchers at ETH Zurich puts the origin of the virus in the first half of November. 


Fact check:Coronavirus originated in China, not elsewhere, researchers and studies say

Rumors surrounding the origins of the novel coronavirus have swirled as it spreads around the globe. Theories that the virus originated in a Chinese laboratory, or that it originated outside of China and was brought over by the U.S. Army, are not supported by evidence, according to medical experts. 

The Centers for Disease Control and Prevention announced the first case of novel coronavirus in the United States from a person who had recently returned to Washington from Wuhan. The United States has since surpassed China and Italy to become the most infected country in the world, according to a tracker from Johns Hopkins University.  

Symptoms of the novel coronavirus include a fever, cough and shortness of breath. Reported illnesses range from mild symptoms to severe symptoms and death. 


Could the coronavirus have been in the U.S. before January? 

Experts say it's plausible that coronavirus came over to the U.S. from China before that first January case, but more testing is needed to be sure. 

"Anecdotally, we've heard about some influenza-like illnesses in December and January that were a little bit atypical," said Dr. Luis Ostrosky, a professor of infectious diseases at McGovern Medical School at UTHealth in Houston. "But the thing we need to solve that puzzle is when we actually start doing testing of antibodies, not just detecting the virus." 


Ostrosky said that would include taking a look at blood samples from December and January to see if the virus was already in circulation. 

Dr. Georges Benjamin, executive director of the American Public Health Association, said he believes when researchers do more testing, they will probably find the disease was in the U.S. earlier than first believed. 

"I believe at the end of this, when we do look back – and we will – we will probably find that this disease was here earlier than we thought," he said. "We also know that when we closed our borders, it was very, very leaky." 

However, Benjamin said it's "plausible but not likely" that the coronavirus was in the United States in November and December. If it were in the U.S. before the end of the year, the case would also have likely been connected to travel from China, he said, and likely not widespread. 

Dr. Josh Petrie, assistant research professor at the University of Michigan School of Public Health, said it's important to remember that multiple existing viruses can cause severe upper respiratory symptoms and circulated late last year. Among them was Influenza B, which grew in intensity around November and December, as well as RSV and Influenza A.

He said it's possible there were "sporadic" travel-related cases earlier than the discovery of the first case but agreed it was likely not widespread as far back as November or December. 

"There's a lot of surveillance that goes on for influenza every year, and so if we were seeing a lot of coronavirus activity at that time – even if you couldn't test for it – you would see signals in that influenza surveillance," he said. 

Would already having the coronavirus make someone immune to further infection by it? That's also still under investigation. Ostrosky said that, in general terms, other coronaviruses do result in built-up immunity. 

A New York Times article published Wednesday about research efforts underway to study antibodies characterized the answer to the immunity question as "a qualified yes, with some significant unknowns." Dr. Vineet D. Menachery, a virologist at the University of Texas Medical Branch at Galveston, told the Times that people who are infected may have one to two years of immunity, with any longer time span hard to predict. 


Comparison of FFP2, KN95, and N95 and Other Filtering Facepiece Respirator Classes
Filtering facepiece respirators (FFR), which are sometimes called disposable respirators, are subject to various regulatory
standards around the world. These standards specify certain required physical properties and performance characteristics in
order for respirators to claim compliance with the particular standard. During pandemic or emergency situations, health
authorities often reference these standards when making respirator recommendations, stating, for example, that certain
populations should use an "N95, FFP2, or equivalent" respirator.
This document is only intended to help clarify some key similarities between such references, specifically to the following FFR
performance standards:
• N95 (United States NIOSH-42CFR84)
• FFP2 (Europe EN 149-2001)
• KN95 (China GB2626-2006)
• P2 (Australia/New Zealand AS/NZA 1716:2012)
• Korea 1st class (Korea KMOEL – 2017-64)
• DS (Japan JMHLW-Notification 214, 2018)
As shown in the following summary table, respirators certified as meeting these standards can be expected to function very
similarly to one another, based on the performance requirements stated in the standards and confirmed during conformity
testing.
One notable comparison point is the flow rates specified by these standards for the inhalation and exhalation resistance
tests. Inhalation resistance testing flow rates range from 40 to 160L/min. Exhalation resistance testing flow rates range from
30 to 95 L/min. Some countries require testing to be performed at multiple flow rates, others at only the high or low end of
those ranges. Although this appears to suggest that the standards' requirements for breathing resistance (also called "pressure
drop") differ from each other, it's important to understand that pressure drop across any filter will naturally be higher at
higher flow rates and lower at lower flow rates. Given typical pressure curves for respirator filters, the standards' various
pressure drop requirements are actually quite similar. This chart shows a representative filter pressure drop curve. If one
filter is tested at a high flow rate, the pressure drop performance will be relatively high. If that same filter is tested at a low
flow rate, the pressure drop performance will be relatively low.
Personal Safety Division

Based on this comparison, it is reasonable to consider China KN95, AS/NZ P2, Korea 1st Class, and Japan DS FFRs as
"equivalent" to US NIOSH N95 and European FFP2 respirators, for filtering non-oil-based particles such as those resulting
from wildfires, PM 2.5 air pollution, volcanic eruptions, or bioaerosols (e.g. viruses). However, prior to selecting a respirator,
users should consult their local respiratory protection regulations and requirements or check with their local public health
authorities for selection guidance




Filter performance – the filter is evaluated to measure the reduction in concentrations of specific aerosols in air that passes through the filter.

Test agent – the aerosol that is generated during the filter performance test.

Total inward leakage (TIL) – the amount of a specific aerosol that enters the tested respirator face-piece via both filter penetration and face-seal leakage, while a wearer performs a series of exercises in a test chamber.

Inward leakage (IL)– the amount of a specific aerosol that enters the tested respirator face-piece, while a wearer performs a normal breathing for 3 minutes in a test chamber. The test aerosol size (count median diameter) is about 0.5 micro meter.

Pressure drop – the resistance air is subjected to as it moves through a medium, such as a respirator filter.

Do you need a Face Shield or an N95 Mask for Emergencies? 


*****Any of my clients who are age 65 or older, or have a medical  immune system and are seeing patients for emergencies, then text me at 757-718-1515 and they can come by and I will put the PPE in my mailbox.  I am having trouble getting the shields out in the mail.  Some are not arriving to their destination, so I will have those that need them to come to my home address in Chesapeake, VA.   

I have ordered 50 FFP2/N95 masks to make sure it's a legitimate company.  But I'm pretty good at spotting scams.  So I will let you all know.  Should be before the end of the month.

What Hospitals are saying:  

Known or suspected COVID-19 Patient – gown, mask, gloves, & eye protection. 
If doing anything that involves aerosolization of secretions, add N95 mask. 
If respiratory symptoms but not known or suspected covid basically mask, eye protection, gloves.
Everyone should be suspected to have COVID-19.  So recap:  All patients seen wear a mask, eye protection, and gloves. 
If concerned, gown. If concerned and aerosol procedure, add N95.

CDC Recommendation if you are treating an emergency at your Dental Facility.  
If the minimally acceptable combination of a surgical mask and a full-face shield is not available, do not perform any emergency dental care. Refer the patient to a clinician who has the appropriate PPE.  See below on how to make a face shield and a N95 mask.  



Great App for Fear, Stress and Anxiety

DARE app is very helpful to cope up with your stress and anxiety.  This is a phone app.  You will Need to download this app.  It is free!  The app will not install from the Newsletter.  Sorry.  



Making Your Own Reusable Elastomeric Respirator For Use During Covid-19 Viral Pandemic N95 Shortage.

https://youtu.be/Es_iY5WJdmI



Making Your Own Reusable N95 Mask for Use During Covid-19 Viral Pandemic N95 Shortage. This passed the Fit test with with a variety of face sized women.

https://youtu.be/gImBd704uxE

Making CDC recommends to wear a mask. Here is how you can make one with a old tee-shirt in less than 45
seconds. Click the Link below his picture.

.

https://www.independent.co.uk/life-style/how-to-make-face-mask-home-material-instructions-coronavirus-a9456021.html?utm_source=taboola&utm_medium=Feed&jwsource=cl



How to make a Face Shield.

https://youtu.be/t-HOSXIZUcw
Warm Your Heart Music Video's


Thank U Frontline' by Chris Mann
https://youtu.be/xGKFVMgjrPc



https://youtu.be/nDIJz6zzHNU


https://youtu.be/lqWQCWc_zCc


Heart Felt and Selfless Acts!


Fun Videos Of The Week

https://youtu.be/EqfHd_zMiIA
https://youtu.be/MMBh-eo3tvE
Winner of the week
Winner of the week
Instead of the "Question of the week"; MSDS will be adding:
*Questions and concerns from our clients  
*Literature of Potential scam/spam
*Updates from the Board of Dentistry
*New Regulations from Federal or State
*And Grammar/Spelling Errors.  
                                      
              
   Weekly winners will receive a $10.00 gift card to Starbucks!
 Names are drawn by the app below.     https://miniwebtool.com/random-name-picker/

Organizing your computer for MSDS:
Make a folder on your desktop named MSDS.Double click the folder.Create Folders for each category.
OSHA-BBP, OSHA Safety Classes, HIPAA, Medical Emergency, BLS-CPR, etc.In each folder, for example, HIPAA:You'll have the Business Associate Agreement, Patient Consent Form, Office's Privacy Practice, etc.  

 We love our ClientsMSDS911ADDITIONAL SERVICES 

OSHA-BBP Exposure Control Plan.
Mandatory by Federal OSHA-BBPRequired to be Personalized
Reviewed Annually by all office staff involved in OPIM. (Other Potentially Infectious Materials)This manual is also called: The OSHA manual, The Exposure Control Plan or The Bloodborne Pathogen manual.  

If you want MSDS to help you with your Personalized manual.  The cost for non clients is $450.00.  Cost for Clients is $250.00 this gives you not only a personalized manual in binder form, but also in PDF which is the format the Inspectors will want you to have.  Best to know that we will not have you answer incorrectly vs. you writing your own manual and the manual is incorrect.  MSDS can boast that our manual has never been given anything less than an A+ from an OSHA inspector.  

Want to change how you receive these emails?

You can update your preferences or unsubscribe from this list.