Requested Products are available on MsdsSafety.com.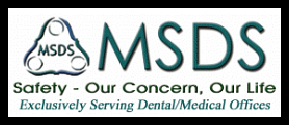 Staff of MSDS wish you to Stay Safe, De-Stress and Stay Active!
Linda, Anee, Saba, Ifra, Chelsie and Patrick (no photo)

MSDS views all of our Dental Clients as Healthcare Providers! We Thank all of you for your Outstanding work and all that you do!!


Requested Products are available on MsdsSafety.com.
PPE Needed Is Now Available.
We are going to discuss PPE first and the second section is the new date to see patients.

Recently, the Governor discussed PPE with the VDA President and linked everyone to a Gov. Website so the dentist could see who is committed to suppling PPE to Dental Healthcare Offices. However, I also asked my distributors who are on the Gov. Supply Website, that MSDS's Dental Healthcare clients should have access to the N95 masks. They are Healthcare Providers and need PPE! I typically only sell to dental offices – first aid products, but you need N95's and disposable gowns, nitrile gloves, bouffant hair covers and a no contact thermometer.

As of one day ago, we now have the availability to order them. They will still possibly take two weeks to get to the office, but at least we have a source. So if you need them, jump on the website. MsdsSafety.com

Please Register on our website, MsdsSafety.com and we will authorize you as a user. Fill out the registration as if it's the doctor, as they are only allowing dental and medical healthcare to place orders for PPE. You will also see a spot for the DEA and License number. We will not need a copy of this yet since you haven't ordered anything that needs a prescription attached, but we do need the numbers if they question if this a doctor.

We will then take the information and get a ship to started at our distributor. This can take up to 48 hours. But it's typically done in less than 24 hours. Meanwhile, you can place your order.

On the home page of MsdsSafety.com, Search on the left hand column on the MsdsSafety website and copy paste the item number. This seems the fastest way to make sure you get the correct products ordered.

Product pictures are on the bottom of this Newsletter.

M1163380. NIOSH Approved. Vflex N95 Masks: 50 for $52.86

M787073. NIOSH Approved. N95 Industrial Masks: 160/CS for $324.70

M986416. NIOSH Approved. N95 Industrial Masks Small: 160/CS for $285.12

M417535. Yellow Isolation disposable gown: 50 for $67.12

M422295. Blue bouffant caps: 500 for $41.92

M1160528. Digital Infrared Thermometer: EA/1 for $83.04

M794316. Exam Nitrile Glove X-Large: 200/BX for $29.97

M778121. Exam Nitrile Glove Large: 200/BX for $29.97

M780470. Exam Nitrile Glove Small: 200/BX for $29.97

M955301. Exam Nitrile Glove X-Small: 300/BX for $29.97

If your office has never ordered from our website, it will take 24 to 48 hours just to get a ship-to set up from our distributors. So time is of the essence. And if you have a ship-to already, you are 48 hours closer to getting your PPE!

When you check out, press the Proceed to Paypal. Our site only accept Paypal. Once you see the Login for Paypal, you will notice below the blue login bar, there is a grey bar that states Pay with Debit or Credit Card. Select this option if you do not want to register with Paypal. You will be considered a guest and just enter your cc number. Paypal site is very secured.

Once payment has been made and ship-to assigned, we will order your PPE.

After your order has gone through the first time, it will be much faster with future orders. MSDS's is only doing this because our dental suppliers can't meet all the needs. And frankly, they have no issues as they know that once they have the supply in stock, and can get it to you within a couple of days vs a couple of weeks, you will go back to using your reps for your supply needs.
VDA President requests Gov. Of VA to answer questions on PPE and Date to Open for Business as Usual.
Click here to listing to the VDA and the Governor: https://youtu.be/tXetCJ2HMBU

New date to open: May 1st – but that could change.

The Governor clearly stated he doesn't understand all that a Dental Healthcare Provider does. That needs to change and my hope is the VDA President will do just that. The Governor wants to give Dental Healthcare Offices a whole week earlier to open than the other public shops. Not sure how to take that.

CDC said – send your patients to another dentist if you don't have the necessary PPE.

Are you kidding me? Clearly they do not understand how protective a Dental Physician of the Oral Cavity is……

As my mom always said: Someone's emergency is someone else's inconvenience. And that's what I'm hearing from my clients. That Dental Healthcare Providers feel they are an inconvenience in how they are perceived in Healthcare. And my answer to those that say that to me? Knock it off and quit acting like you're a doormat! (For those that know me understand that comment written with Love) Tell the Governor you matter. Tell them all what you do for your patients. If an ENT is a specialist and considered a surgeon, and the teeth and oral mucous membranes are smack in the middle of what the ENT's treat, then we should be viewed no different then an ENT. Tell the Governor why dentistry is your passion. The joy you get from a patient after a root canal is completed and their pain level is gone. The love you feel when a patient finally gets their oral cavity in optimal health. Your patients love you. You fix their problems, You heal their wounds. And you should be viewed as a Healthcare Provider no different than a Hospital Surgeon. You're expected to wear the same PPE. And the Governor and all the other Agencies should know you don't give up your family to another dentist! You just need PPE.

WHAT THE HECK IS THE GOVERNOR LOOKING FOR?? Don't get me wrong. I actually don't dislike him. And he is in a very difficult position along with our VDA president. Evidently the Governor wants, or is being told to view a 14 day decline in the amount of new cases and deaths before giving the green light to dentists to open up their doors. If they are ramping up the testing, will that show a higher number? Will he take that into consideration? I don't know. Again, the ADA and VDA are trying to get him to understand, however, I think each of you should be writing letters to the Governor.

Along those same lines, there is actually three (3) items that were originally mentioned by the Federal Government to show when it will be okay to open our doors and get back to the new normal.

1. A 14 day decline in New Cases and Deaths
2. A 14 day decline in symptoms that might represent Covid-19
3. A Hospital capacity to handle Patients without Operating in Crisis Mode along with A robust Testing Program.

The best we can do is get prepared with our PPE, see your patients in Emergency status with proper record-keeping and PPE so you know you are prepared when we can legally open our doors. And speak to your peers, your professors, ask how they are using the Telehealth system. I really think money is being missed here. I did a newsletter on it and send everyone a link to view the insurance codes.

inally, I am not stating the extension is fair. And I am so sorry for all our Dental Healthcare Clients who have worked so hard and donated so much, only to not get the same in return when you're in need and ready. Just know you are The True Nurturing Providers, and do not allow this to change your personality. For those offices that have PPE and ready to see patients, look to see what else you can do for your office. Is a plexiglass divider to keep the Clerical staff apart from the patients warrantied? Is all of your manuals, SDS binder, safety classes completed. Look on the list of items that you always said there is not enough time. Start checking off projects. This is not going to stop once we open our doors again. This very may just be our new normal.

To my Dental Healthcare staff – it has always been an honor to work and protect you. We will continue to find the PPE and and research information that you need make this process as less bumpy.
COVID-19 Staff Screening
Staff screening should be part of the normal progress for any staff or doctors coming into your Dental Healthcare Office. It should not be just the Patients.

Questions will need to be answered and temperatures will be taken.

Do you have any of the following:

Cough, difficulty breathing, or shortness of breath?

If the answer is YES:
– If YES but NO Fever Wear a Mask. Monitor temp at least twice daily. Record the temps. Keep confidential, and let the staff work.
– If YES AND Fever > 100.0F or 37.8 C at any time, then they are to stop working
– Staff needs to go home and call VDH to see if they meed the requirements for testing.
– Employee work status determined by the Owner and may be delegated to management.


If the answer is NO:


If NO and NO fever – Employee starts work.
If NO and YES to Fever
– OFF WORK
– Employee to contact Primary Care Provider (PCP) and follow their instructions
– Employee to contact Owner or Delegated staff after PCP call for work status.

Any time employee is contacting VDH or their PCP keep notes on time and date, who you spoke to, what was said and their phone number.

If the Staff Member is in Respiratory Distress: Call 911 immediately.

Thats all for now….. Keep adding everything I'm sending you to the proper binders!
Products in Highest Demand
Organizing your computer for MSDS:

– Make a folder on your desktop named MSDS.
– Double click the folder.
– Create Folders for each category. OSHA-BBP, OSHA Safety Classes, HIPAA, Medical Emergency, BLS-CPR, etc.

– In each folder, for example, HIPAA:
-You'll have the Business Associate Agreement, Patient Consent Form, Office's Privacy Practice, etc.
OSHA-BBP Exposure Control Plan.

Mandatory by Federal OSHA-BBPRequired to be PersonalizedReviewed Annually by all office staff involved in OPIM. (Other Potentially Infectious Materials)This manual is also called: The OSHA manual, The Exposure Control Plan or The Bloodborne Pathogen manual.

If you want MSDS to help you with your Personalized manual. The cost for non clients is $450.00. Cost for Clients is $250.00 this gives you not only a personalized manual in binder form, but also in PDF which is the format the Inspectors will want you to have. Best to know that we will not have you answer incorrectly vs. you writing your own manual and the manual is incorrect. MSDS can boast that our manual has never been given anything less than an A+ from an OSHA inspector.